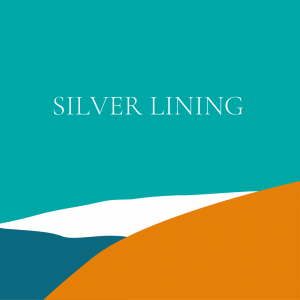 Holy Heck I'm glad we are saying goodbye to January. Personally, this one seemed to be extra long and difficult. My goal of trying not to be on social media as much totally went down the drain….(STUPID COVID).
Continually getting stuck in some negative thoughts throughout the past month, I dug deep and frequently used the term "silver lining" ( a lot with friends and family). to pull myself out of a bad space.
Definition of silver lining
: a consoling or hopeful prospect
So here is my VERY PERSONAL COVID silver lining list (not in any order of importance) :
NO SPORTS- As a family that loves team sports and organized sports this was hard… I am 100% guilty of glorifying being busy…I really do like to be busy…I thrive…but I also NEEDED the downtime. Sliver Lining- Instead of sports- we skated, we walked, we talked….I puzzled (unheard of). And trying to heal old injuries with forced rest…
LOCKDOWN- Being forced to stay home with teens and assist with remote learning. Changing course of therapy and help one teen struggle with eating disorder. Watching, listening, crying Silver Lining: the watching, the learning, the crying and guidance – coping as a parent and watching child hit lows and slowly figuring out where they are at each stage- support and growth. FYI it's National Eating Disorder Awareness Week this week #EveryoneHasARoleToPlay
NEW BIZ OPPS! – After successfully setting up a new collaborative health care business that the pandemic forced to close…Loud'n Kinetics pivoted to virtual only-and a new business rose up!
Silver Lining-Homecare business in rural Ontario hit the ground running. My vision of continuing to help our aging population and seniors who need personal care in communities was very much needed. My goal to start off slow….didn't happen. Another silver lining- my team. AMAZING humans who care- who go above and beyond to assist those who want to stay in their home (dignity, care and love).
NO TRAVEL- not being able to see our family for summer vacations or even to see grandparents in Montreal….that was hard.
SILVER LINING- we talked/ zoomed/Facetimed more than we would have if there was no pandemic…..I think my husband has not talked to his family as much in past 20 years than he has in the past 2 years.
COVID- Yes- recently contracting this lovely virus and feeling it!
Silver lining- the ability to isolate with my 17 year old. Forced to hang out with me for 5 days….looking at the universities she has to decide on…knowing that next year will be very very different….and another Silver Lining proving that vaccines work!
I know I am fortunate to be able to find the silver lining…keep searching and find the hope in your moments.