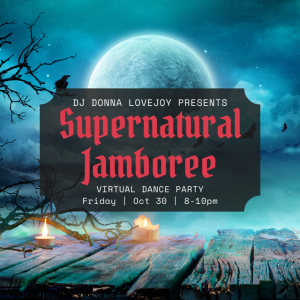 Here we are the week before Halloween in 2020!
I am craving something…(not just the need to eat the tiny chocolate bars). I realize what is missing. I have not dressed up in costume and embarrassed my family for a long time.  Haven't been dancing for a while either!
For those of you who know me…I have been known to dress up (a lot) and dance- teaching flash mobs, making you dress up, creating group dances, and yes just dancing.
So this is how we are going to do it! Dancing for a good cause! Check it out!!!
SUPERNATURAL JAMBOREE This Friday, October 30th-8-10 pm Virtual Costume/ Dance Party.
It's pretty simple.  DJ. Donna Lovejoy will be spinning the tunes- we put on zoom, dress up if you would like (family members encouraged to join) get Kinetic and DANCE!.
We will be paying it forward to the CMHA (Canadian Mental Health Association Hamilton Chapter).  This association has been amazing and pivotal to help the vulnerable population in Hamilton and decrease the stigma of mental health!
https://www.eventbrite.ca/e/supernatural-jamboree-tickets-126606149401